Welcome to our Voter Info page. As a school district, we understand the importance of civic engagement and the role that voting plays in shaping our community. This page is designed to provide you with all the information you need to exercise your right to vote in the upcoming elections. Whether you are a first-time voter or a seasoned one, we have included information on how to register, what the sample ballot looks like, and important dates to keep in mind. We hope that you find this page helpful and informative, and we encourage you to participate in the upcoming elections. Your vote matters!
General Election: May 2, 2023
This will be a mail ballot election.
Voter Registration Dates:
| | |
| --- | --- |
| Close of regular voter registration: | April 3, 2023 |
| Beginning of late voter registration (applicable to all elections): | April 4, 2023 |
| Ballots will be mailed: | April 12, 2023 |
| Last Day to Vote: | May 2, 2023 |
Dawson County Elementary and High School Districts
All the land within Dawson County is separated into different school districts. There are two district maps that show the boundaries—one for high school districts and one for elementary districts. For the high school districts, the county is split into Richey High School and Dawson High School, and a small corner of the county is dedicated to Savage High School. Then the high school districts are further divided into elementary districts. The Richey High School district is split into Bloomfield and Richey Elementary districts, and the Dawson High School district is split into Deer Creek, Lindsay North/South, and Glendive Elementary districts. A property owner within the boundaries of the Glendive Elementary district will pay taxes to the Glendive Elementary schools (Lincoln, Jefferson, and Washington schools) and to the Dawson High School, but the property owner will not pay taxes to Deer Creek or Lindsay elementary schools, and they will not pay taxes to the Richey/Bloomfield or Savage districts. You can see where your property lies within different district boundaries by following this link to a Montana ArcGIS mapping tool.
Montana State Library - Dawson County District Map Link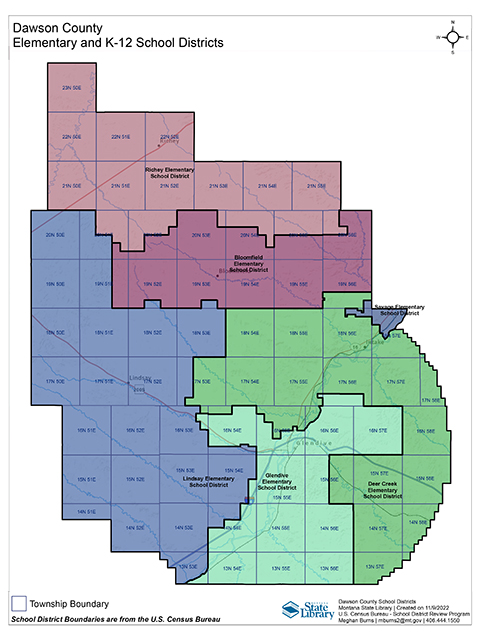 Dawson County School District Map - Montana State Library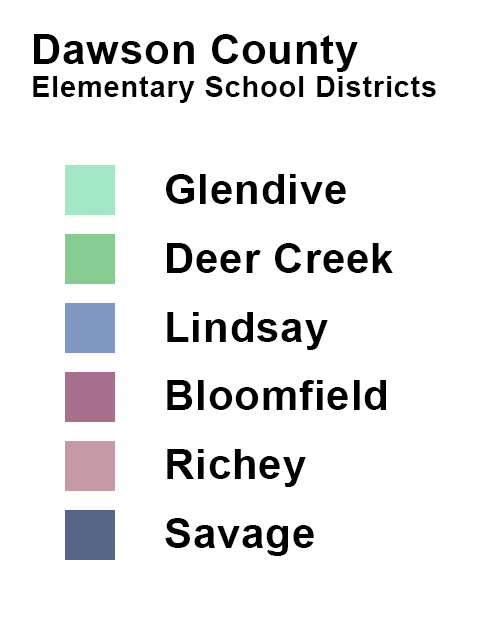 Dawson County Elementary District Map Key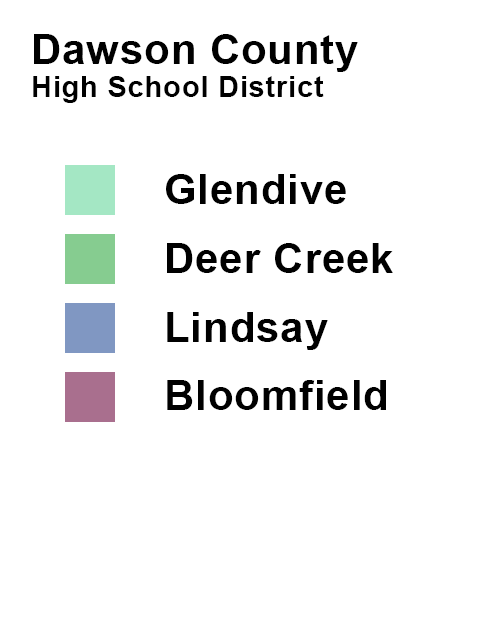 Dawson County High School District Map Key